---
ARCHIVED
YEARS
[ 1976 ] [ 1977 ]
[ 1978 ] [ 1979 ]
[ 1980 ] [ 1981 ]
[ 1982 ] [ 1983 ]
[ 1984 ] [ 1985 ]
[ 1986 ] [ 1987 ]
[ 1988 ] [ 1989 ]
[ 1990 ] [ 1991 ]
[ 1992 ] [ 1993 ]
[ 1994 ] [ 1995 ]
[ 1996 ] [ 1997 ]
[ 1998 ] [ 1999 ]
[ 2000 ] [ 2001 ]
[ 2002 ] [ 2003 ]
[ 2004 ] [ 2005 ]
[ 2006 ] [ 2007 ]
[ 2008 ]


---
ORDERING INSTRUCTIONS
1. Choose the scorecards you are interested in.



2. Email us at dfrattare@gmail.com, letting us know which cards you are interested in purchasing.



3. We will email you the specifics including availability, price and shipping.



4. Order will be held for 10 days after we respond to allow you to pay.

---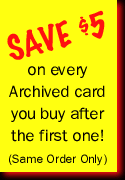 ---
PLEASE NOTE:
All Archived Scorecards come in 11x14 treasury bags. 11x14 plastic top loaders can be purchased for an additional $3.00. Please make note of this in your email.

---


NEED PIRATE'S INFO?
Scott's Pirates Links
is the only site you need. Over 100 Links to Pirate Baseball!


Glenn's Pirates Page
1988
Each scorecard is the original used by Lanny Frattare during Pirates broadcasts.
No 2 cards are identical. You are purchasing the ORIGINAL scorecard.


ITEM #1988-1 April 5 vs. Phillies (A) [

]
ITEM #1988-2 April 6 vs. Phillies (A) [

]
ITEM #1988-3 April 8 vs. Cardinals (A) [

]
ITEM #1988-4 April 9 vs. Cardinals (A) [

]
ITEM #1988-5 April 10 vs. Cardinals (A) [

]
ITEM #1988-6 April 11 vs. Phillies (A) [

]
ITEM #1988-7 April 13 vs. Phillies (A) [

]
ITEM #1988-8 April 14 vs. Phillies (A) [

]
ITEM #1988-9 April 15 vs. Cubs (A) [

]
ITEM #1988-10 April 16 vs. Cubs (A) [

]
ITEM #1988-11 April 17 vs. Cubs (A) [

]
ITEM #1988-12 April 19 vs. Cardinals (H) [

]
ITEM #1988-13 April 20 vs. Cardinals (H) [

]
ITEM #1988-14 April 21 vs. Cardinals (H) [

]
ITEM #1988-15 April 22 vs. Cubs (H) [

]
ITEM #1988-16 April 23 vs. Cubs (H) [

]
ITEM #1988-17 April 24 vs. Cubs (H) [

]
ITEM #1988-18 April 26 vs. Giants (A) [

]
ITEM #1988-19 April 27 vs. Giants (A) [

]
ITEM #1988-20 April 28 vs. Giants (A) [

]
ITEM #1988-21 April 29 vs. Padres (A) [

]
ITEM #1988-22 April 30 vs. Padres (A) [

]
ITEM #1988-23 May 1 vs. Padres (A) [

]
ITEM #1988-24 May 2 vs. Dodgers (A) [

]
ITEM #1988-25 May 3 vs. Dodgers (A) [

]
ITEM #1988-26 May 4 vs. Dodgers (A) [

]
ITEM #1988-27 May 6 vs. Padres (H) [

]
ITEM #1988-28 May 7 vs. Padres (H) [

]
ITEM #1988-29 May 8 vs. Padres (H) [

]
ITEM #1988-30 May 9 vs. Giants (H) [

]
ITEM #1988-31 May 10 vs. Giants (H) [

]
ITEM #1988-32 May 11 vs. Dodgers (H) [

]
ITEM #1988-33 May 12 vs. Dodgers (H) [

]
ITEM #1988-34 May 13 vs. Reds (H) [

]
ITEM #1988-35 May 14 vs. Reds (H) [

]
ITEM #1988-36 May 15 vs. Reds (H) [

]
ITEM #1988-37 May 16 vs. Astros (A) [

]
ITEM #1988-38 May 17 vs. Astros (A) [

]
ITEM #1988-39 May 18 vs. Astros (A) [

]
ITEM #1988-40 May 20 vs. Braves (H) [

]
ITEM #1988-41 May 21 vs. Braves (H) [

]
ITEM #1988-42 May 22 vs. Braves (H) [

]
ITEM #1988-43 May 23 vs. Astros (H) [

]
ITEM #1988-44 May 24 vs. Astros (H) [

]
ITEM #1988-45 May 25 vs. Astros (H) [

]
ITEM #1988-46 May 27 vs. Reds (A) [

]
ITEM #1988-47 May 28 vs. Reds (A) [

]
ITEM #1988-48 May 29 vs. Reds (A) [

]
ITEM #1988-49 May 30 vs. Braves (A) [

]
ITEM #1988-50 May 31 vs. Braves (A) [

]
ITEM #1988-51 June 1 vs. Braves (A) [

]
ITEM #1988-52 June 2 vs. Expos (H) [

]
ITEM #1988-54 June 4 vs. Expos (H) [

]
ITEM #1988-55 June 5 vs. Expos (H) [

]
ITEM #1988-56 June 7 vs. Cubs (H) [

]
ITEM #1988-57 June 8 vs. Cubs (H) [

]
ITEM #1988-58 June 9 vs. Cubs (H) [

]
ITEM #1988-59 June 10 vs. Phillies (H) [

]
ITEM #1988-60 June 11 vs. Phillies (H) [

]
ITEM #1988-61 June 12 vs. Phillies (H) [

]
ITEM #1988-62 June 13 vs. Cubs (A) [

]
ITEM #1988-63 June 14 vs. Cubs (A) [

]
ITEM #1988-64 June 15 vs. Cubs (A) [

]
ITEM #1988-65 June 17 vs. Cardinals (H) [

]
ITEM #1988-66 June 18 vs. Cardinals (H) [

]
ITEM #1988-67 June 19 vs. Cardinals (H) [

]
ITEM #1988-68 June 20 vs. Mets (A) [

]
ITEM #1988-69 June 21 vs. Mets (A) [

]
ITEM #1988-70 June 22 vs. Mets (A) [

]
ITEM #1988-71 June 23 vs. Ecpos (A) [

]
ITEM #1988-72 June 24 vs. Expos (A) [

]
ITEM #1988-73 June 25 vs. Expos (A) [

]
ITEM #1988-74 June 26 vs. Expos (A) [

]
ITEM #1988-75 June 27 vs. Mets (H) [

]
ITEM #1988-76 June 28 vs. Mets (H) [

]
ITEM #1988-77 June 29 vs. Mets (H) [

]
ITEM #1988-78 July 1 vs. Giants (A) [

]
ITEM #1988-79 July 2 vs. Giants (A) [

]
ITEM #1988-80 July 3 vs. Giants (A) [

]
ITEM #1988-81 July 4 vs. Padres (A) [

]
ITEM #1988-82 July 5 vs. Padres (A) [

]
ITEM #1988-83 July 7 vs. Padres (A) [

]
ITEM #1988-84 July 8 vs. Dodgers (A) [

]
ITEM #1988-85 July 9 vs. Dodgers (A) [

]
ITEM #1988-86 July 10 vs. Dodgers (A) [

]
ITEM #1988-87 July 14 vs. Giants (H) [

]
ITEM #1988-88 July 15 vs. Giants (H) [

]
ITEM #1988-89 July 16 vs. Giants (H) [

]
ITEM #1988-90 July 17 vs. Giants (H) [

]
ITEM #1988-91 July 19 vs. Padres (H) [

]
ITEM #1988-92 July 19 vs. Padres (H) [

]
ITEM #1988-93 July 20 vs. Padres (H) [

]
ITEM #1988-94 July 21 vs. Dodgers (H) [

]
ITEM #1988-95 July 22 vs. Dodgers (H) [

]
ITEM #1988-96 July 23 vs. Dodgers (H) [

]
ITEM #1988-97 July 24 vs. Dodgers (H) [

]
ITEM #1988-98 July 25 vs. Cardinals (A) [

]
ITEM #1988-99 July 26 vs. Cardinals (A) [

]
ITEM #1988-100 July 27 vs. Cardinals (A) [

]
ITEM #1988-101 July 29 vs. Mets (A) [

]
ITEM #1988-102 July 30 vs. Mets (A) [

]
ITEM #1988-103 July 31 vs. Mets (A) [

]
ITEM #1988-104 August 1 vs. Mets (A) [

]
ITEM #1988-105 August 2 vs. Expos (H) [

]
ITEM #1988-106 August 3 vs. Expos (H) [

]
ITEM #1988-107 August 4 vs. Expos (H) [

]
ITEM #1988-108 August 5 vs. Mets (H) [

]
ITEM #1988-109 August 6 vs. Mets (H) [

]
ITEM #1988-110 August 7 vs. Mets (H) [

]
ITEM #1988-111 August 8 vs. Mets (H) [

]
ITEM #1988-112 August 9 vs. Expos (A) [

]
ITEM #1988-113 August 10 vs. Expos (A) [

]
ITEM #1988-114 August 11 vs. Expos (A) [

]
ITEM #1988-115 August 12 vs. Phillies (A) [

]
ITEM #1988-116 August 12 vs. Phillies (A) [

]
ITEM #1988-117 August 13 vs. Phillies (A) [

]
ITEM #1988-118 August 14 vs. Phillies (A) [

]
ITEM #1988-119 August 15 vs. Braves (H) [

]
ITEM #1988-120 August 16 vs. Braves (H) [

]
ITEM #1988-121 August 17 vs. Braves (H) [

]
ITEM #1988-122 August 19 vs. Astros (H) [

]
ITEM #1988-123 August 20 vs. Astros (H) [

]
ITEM #1988-124 August 21 vs. Astros (H) [

]
ITEM #1988-125 August 22 vs. Reds (H) [

]
ITEM #1988-126 August 23 vs. Reds (H) [

]
ITEM #1988-127 August 24 vs. Reds (H) [

]
ITEM #1988-128 August 26 vs. Astros (A) [

]
ITEM #1988-129 August 27 vs. Astros (A) [

]
ITEM #1988-130 August 28 vs. Astros (A) [

]
ITEM #1988-131 August 29 vs. Reds (A) [

]
ITEM #1988-132 August 30 vs. Reds (A) [

]
ITEM #1988-133 August 31 vs. Reds (A) [

]
ITEM #1988-134 September 2 vs. Braves (A) [

]
ITEM #1988-135 September 5 vs. Mets (H) [

]
ITEM #1988-136 September 6 vs. Mets (H) [

]
ITEM #1988-137 September 7 vs. Expos (H) [

]
ITEM #1988-138 September 8 vs. Expos (H) [

]
ITEM #1988-139 September 9 vs. Phillies (H) [

]
ITEM #1988-140 September 10 vs. Phillies (H) [

]
ITEM #1988-141 September 11 vs. Phillies (H) [

]
ITEM #1988-142 September 12 vs. Mets (A) [

]
ITEM #1988-143 September 13 vs. Mets (A) [

]
ITEM #1988-144 September 14 vs. Expos (A) [

]
ITEM #1988-146 September 16 vs. Phillies (A) [

]
ITEM #1988-147 September 17 vs. Phillies (A) [

]
ITEM #1988-148 September 18 vs. Phillies (A) [

]
ITEM #1988-150 September 20 vs. Cardinals (A) [

]
ITEM #1988-151 September 21 vs. Cardinals (A) [

]
ITEM #1988-152 September 23 vs. Cubs (H) [

]
ITEM #1988-153 September 24 vs. Cubs (H) [

]
ITEM #1988-154 September 25 vs. Cubs (H) [

]
ITEM #1988-155 September 26 vs. Cardinals (H) [

]
ITEM #1988-156 September 27 vs. Cardinals (H) [

]
ITEM #1988-157 September 28 vs. Cardinals (H) [

]
ITEM #1988-158 September 30 vs. Cubs (A) [

]
ITEM #1988-159 October 1 vs. Cubs (A) [

]
ITEM #1988-160 October 2 vs. Cubs (A) [

]


HOME • ORDERING • FEATURED CARDS • ARCHIVES
FINAL SCORECARD FROM 3 RIVERS STADIUM REPRODUCTION • SHOWS & DEALERS




Lanny Frattare Scorecards is not affiliated with the Pittsburgh Pirates Baseball club.
Copyright © 2008; All Rights Reserved.
Site design and maintenance by David K. Frattare